Newsletter Archives
Adobe
®
Reader
®
is needed to download the following documents. A free download of Adobe
®
Reader
®
is available by clicking on the logo...

Click below to download archived PACT Newsletters...
●
2007 Newsletter download
●
2008 Newsletter download
●
2009 Newsletter download
●
2010 Newsletter download
●
2011 Newsletter download
●
2012 Newsletter download
●
2013 Newsletter download
Past Performances
Steel Magnolias
August 8-10, 2003
Written by Robert Harling
Directed by Michael W. Kobs
The story is set in Truvy's Louisiana beauty parlor where women who are "anybody" come to have their hair done. Helped by her eager new assistant, Annelle, the outspoken, wise-cracking Truvy dispenses shampoos and free advice to her customers, Miss Clairee, Ouiser, and M'Lynn, whose daughter Shelby, is about to wed. Filled with hilarious situations and revealing verbal collisions, the play moves toward tragedy when Shelby risks pregancy and forfeits her life. The realization of their mortality affects all, and gives the play and its characters the special qualities to make them truly touching, funny and good company in both good and bad times.
---
Arsenic & Old Lace
August 20-22, 2004
A comedy written by Joseph Kesselring
Directed by Gail Possley
Arsenic & Old Lace is a farce. The story revolves around Mortimer Brewster, a theatre drama critic who must deal with his crazy family and local police in Brooklyn, New York, as he debates whether to go through with marrying Elaine Harper, the woman he loves. His family includes two spinster aunts who have taken to murdering lonely old men by poisoning them with a glass of home-made elderberry wine laced with arsenic, strychnine and "just a pinch" of cyanide. Mortimer's brother, Teddy, believes he's Teddy Roosevelt and digs locks for the Panama Canal in the cellar of the Brewster home. Mortimer also has a criminally murderous brother, Jonathan, who has received plastic surgery from an alcoholic accomplice, Dr. Einstein, to conceal his identity and now looks like horror-film actor Boris Karloff.
---
Rumors
August 18-21, 2005
Written by Neil Simon
Directed by Jeannie Pitsch
This farce follows the story of four couples who arrive one at a time at the townhouse of a deputy New York City mayor and his wife to celebrate their tenth wedding anniversary. The party never begins because the host has shot himself in the head (it's only a flesh wound) and his wife is missing. His lawyer's cover-up gets progressively more difficult to sustain as the other guests arrive and nobody can remember who has been told what about whom as they speculate what has happened to the anniversary couple. Doors slam and hilarity abounds as the couples get more and more crazed, confused and frustrated with keeping their stories straight.
---
The Curious Savage
August 17-20, 2006
A fanciful comedy written by John Patrick
Directed and designed by Greg Rindfleisch
Meet Mrs. Ethel Savage, an eccentric and very wealth widow who is intent on giving away as much of the family fortune as she can to those whose dreams are worthy but whose means are meager. Enter her three greedy, self-serving adult stepchildren who place her in "The Cloisters", a psychiatric "rest home" to "bring her to her senses." Here she meets a variety of quirky, slightly off-balanced patients who help her lead the avaricious siblings on a merry chase. Eventually, all of the patients appear more "sane" than those outside the walls of the institution, and the virtues of kindness and affection, in the end, outweigh the worldly motivations of greed and dishonesty.
---
Love is Contagious
August 7-10, 2008
A romantic comedy written by Patricia McLaine
Directed by Gail Possley
Sally, a young farm girl from Kansas visits New York City with plans to become an actress or model. To her brother Robbie's surprise, she arrives at his Greenwich Village apartment and announces that she is staying with him and his roommate. Robbie, a newspaper reporter, and his roommate Sam, an artist, are not happy about her arrival because she "mothers" them and adds feminine touches to their apartment. She also plays matchmaker by reuniting them with their former girlfriends. Filled with tense moments, light-hearted laughs and a cast of colorful characters, the merriment never slackens. True love, as it should, triumphs in the end.
---
Laughing Stock
August 6-9, 2009
By Charles Morey
An affectionate and whimsical look at the magic that holds theater companies together. It depicts the desperate efforts of theater director Gordon Page to produce a season that will appeal to all by rotating "Charley's Aunt", Dracula" and "Hamlet" for a thoroughly ambitious summer season set in an old barn.
---
Leaving Iowa
July 22-25, 2010
"The Comedy About Family Vacations"
By Spike Manton and Tim Clue
---
The Philadelphia Story
July 21-24, 2011
A Romantic Comedy written by Philip Barry
Directed by Sean Hanlin
"The Philadelphia Story"
Cast of Characters:
---
Love, Sex and the IRS
July 19-22, 2012
Directed by Steven Allar
Love, Sex and the I.R.S. has all the elements that audiences expect and enjoy from PACT. The play is filled with twists of fate, sight gags, and hilarious comic lines. Misunderstandings and mistaken identities provide much of the humor for an
enjoyable evening of theater.

"Love, Sex and the IRS"
Cast of Characters:
| | |
| --- | --- |
| Leslie Arthur... | Sean Hanlin |
| Jon Trachtman... | Andy Spencer |
| Kate Dennis... | Jonni-rae Binder |
| Floyd Spinner... | Randall Fochs |
| Vivian Trachtman... | Jo-Lea Binger |
| Mr. Jansen... | Preston S. Fuller |
| Connie... | Courtney Wozniak |
| Arnold Grunion... | Tim Hiles |
| Director... | Steven Allar |
| Stage Manager... | Autumn Bendickson |
---
You're a Good Man, Charlie Brown
July 26-28, 2013
Director: Emily Pearse
Musical Director: Shauna Rahm
A musical comedy based on the comic
strip "Peanuts" by Charles M Schulz.
"You're a Good Man, Charlie Brown"
Cast of Characters:
| | |
| --- | --- |
| Charlie Brown... | Nathan Amundson |
| Lucy... | Miranda Coulthard |
| Linus... | Calvin Amundson |
| Sally... | Jamie Dietz |
| Schroeder... | Jack Zdun |
| Freida... | Brooke Zdun |
| Peppermint Patty... | Hannah Downs |
| Marcie... | Deanna Borgman |
| Snoopy... | Angela |
---
The Ladies of Harmony
July 18-20, 2014
Director: Steven Allar
Technical Director: Sarah Freedlund
Set Construction: Randy Fochs
The Ladies of Harmony present a deep, rich involvement in community activities and small town life we all can relate to in today's busy world.
"The Ladies of Harmony"
Cast of Characters:
| | |
| --- | --- |
| Addie... | Stacy Bornbach |
| Leah... | Ruth Buettner |
| Grace... | Jo Lea Binger |
| Thelma... | Roseanne Davis |
| Maud... | Gail Possley |
| Stella... | Kathy Stamas |
| Russell... | Randy Fochs |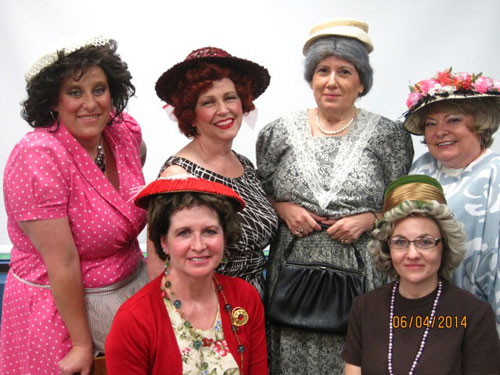 ---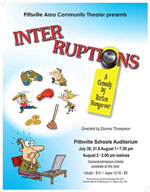 Interruptions
July 30-August 2, 2015
By Burton Bumgarner
Director: Donna Thompson
Set Design and Construction: Randy Fochs
Production Assistance: Ruth and Ben Buettner, Sarah Freedlund and Sheryl Hiles
Romance author Howard Weems believes he has isolated himself so that he can finish his latest steamy novel. That proves to be emphatically untrue as a series of sincere but often misguided visitors bedevil the concentration of his creative genius.
"Interruptions"
Cast of Characters:
| | |
| --- | --- |
| Howard Weems... | Greg Jackan |
| Laura Rosenberg... | Sarah Freedlund |
| Julie Rosenberg... | Kimberly Rakovec |
| Bob Garfield... | Ed Krall |
| Howard the Plumber... | Dennis Friedrichsen |
| Marty... | Martin Schwanebeck |
| Boom Boom Dellaholt... | Stacy Bornbach |
| Patty Dellaholt... | Faith Buettner |
| JoBeth... | Kathy Stamas |
| Gladys Ledbetter... | Roseann Davis |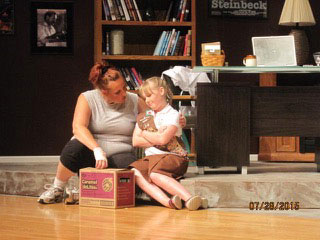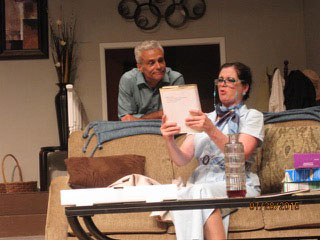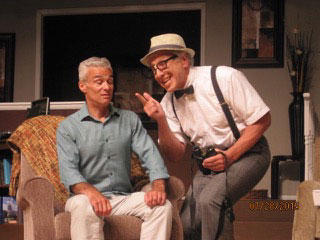 ---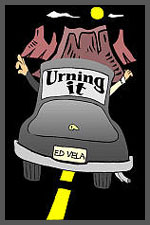 Urning It
July 21-July 24, 2016
By Ed Vela
Director: Sarah Freedlund
Stage Manager and Sound: Cedric Neve
Light Board: Roseanne Davis
We follow the Hammacher family as they cross the country to pick up what they believe to be a rich inheritance. Along the way, the family bounces through the usual dynamics of family life in concentrated form, with lots of laughs, some peril, and important recognitions of affection and understanding.
"Urning It"
Cast of Characters:
| | |
| --- | --- |
| Ward Hammacher | Randall Fochs |
| Callie Hammacher | Kathy Stamas |
| Natalie (Nat) Hammacher | Jessica Fuller |
| Charlotte (Charley) Hammacher | Adrienne Week |
| Gunther (Gunny) Hammacher | Jared Peters |
| Funeral Home Director|Cook | Melissa Darr |
| East Texas Cop | Penny Seidl |
| Mesmero | Brooke Zdun |
| Short Order Cook | Bonnie Wolff |
| Salesman | Martin Schwanebeck |
| LA Lawyer | Steve Allar |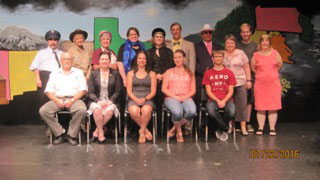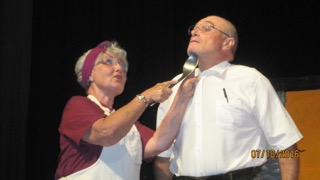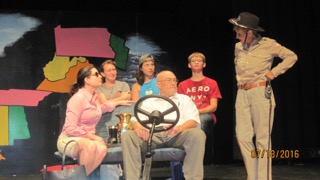 ---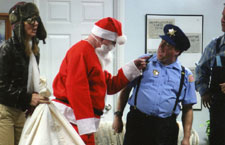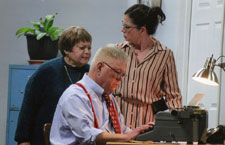 "Not a Creature Was Stirring (Not Even a Moose)"
By Pat Cook — A Community Fundraiser directed by Steve Allar — December, 2016
---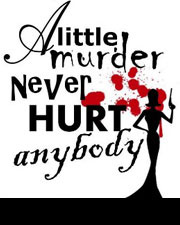 A Little Murder Never Hurt Anybody
July 20-22, 2017
By Ron Bernas
Directed by Nancy Halterman
Producer: Sarah Freedlund
Light Board: Jared Peters
Set Construction: Randall Fochs
Program: Sheryl Hiles
Rich, bored Matthew promises to kill his rich, bored wife Julia so he can become a jet setter like his friend who recently lost his wife. Julia plays along with the inept shenanigans of her husband, but accidental deaths prompt the arrival of clueless detective Plotnik adding to the misdirections and the humor.
"A Little Murder Never Hurt Anybody"
Cast of Characters:
| | |
| --- | --- |
| Matthew Perry | Greg Jackan |
| Buttram | Todd Prosser |
| Julia Perry | Kathy Stamas |
| Bunny Perry | Adrienne Week |
| Donald | Jack Zdun |
| Plotnik | Joshua Carr |
| Maid/Stage Hand | Stephanie Riedel |
| Maid/Stage Hand | Serena Eckes |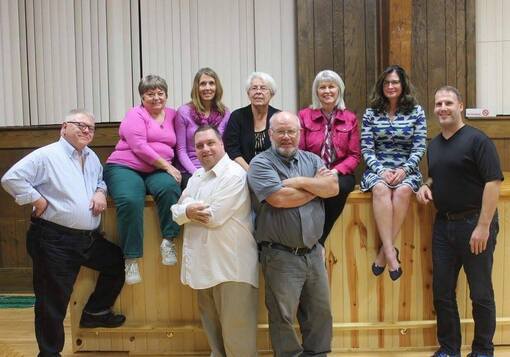 ---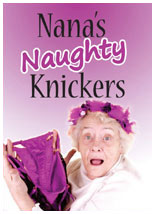 Nana's Naughty Knickers
April 19-22, 2018
By Katherine DiSavino
Directed by Steve Allar

A benefit for the Ronald McDonald House.
"Nana's Naughty Knickers"
Cast of Characters:
| | |
| --- | --- |
| Sylvia Charles | Jo-Lea Binger |
| Vera Walters | Penny Seidl |
| Bridget Charles | Hannah Vale |
| Tom O'Grady | Chris Michalski |
| Gil Schmidt | Wes Reshel |
| Heather Van Pree | Stephanie Riedel |
| Claire Schmidt | Nancy Halterman |
| UPS Man | Todd Prosser |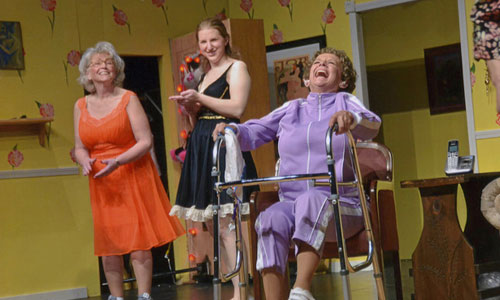 ---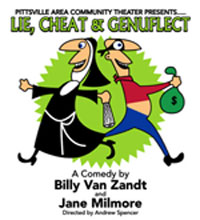 Lie, Cheat and Genuflect
July 19-22, 2018
A comedy by Billy Van Zandt and Jane Milmore
Directed by Andrew Spencer
Producer: Susan C Duerr
Lights and Sound: Lydia Sanken
Set Construction: Randall Fochs and Gabriel Balcom

The Buckle brothers, Billy and Tom, are in big trouble: Tom's infallible eye for slow horses has drained away all of Billy's savings and he has borrowed from loan shark Pizza Face Petrillo, who now wants his money back or else! There's plenty of money in grandfather Buckle's will, but these two black sheep are pretty sure they'll never see any of that. What else to do but dress Billy up as a nun and have him pose as their cousin who is to inherit the entire fortune?
"Lie, Cheat and Genuflect"
Cast of Characters:
| | |
| --- | --- |
| Tom Buckle | Jared Peters |
| Billy Buckle | Andrew Steinert |
| Virginia | Jo-Lea Binger |
| Jane | Alexis Redmond |
| Robert Fryburger | Wes Reshel |
| Girl | Serena Eckes |
| Miss Mackintosh | Stephanie Riedel |
| Pizza Face Petrillo | Randall Fochs |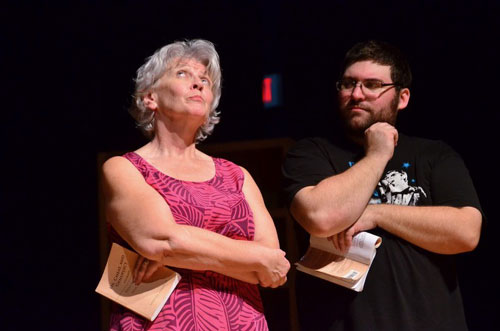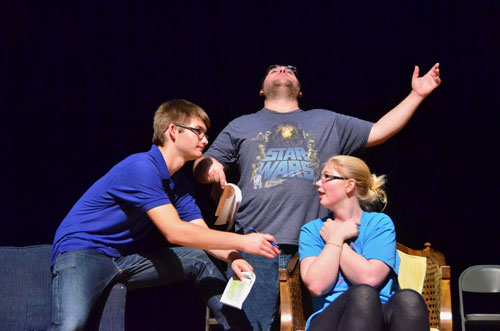 ---
House for Sale
July 18-20; 25-27, 2019
A comedy by Ron Hill
Published by Dramatic Publishing
Directed by Steve Allar
Set Building: Leroy Budke, Steve Allar, Westly Reshel
Lights and Sound: Alexis Redmond
Glen Martin, a 70-something widower in failing health, stubbornly resists his daughter's attempts to get him to sell his home and move in with her and her husband. In his search for a solution to remaining in his home, Glen advertises for a roommate, pulling in several odd and interesting characters. Once the prospective roommates arrive, he quickly loses control of the situation and mayhem erupts. Max, Glen's crony and next-door neighbor, offers his advice and becomes entangled in the melee, taking the situation from bad to worse. That trend is reversed in a final, life-affirming, loving conclusion.
"House for Sale"
Cast of Characters:
● Glen . . . Greg Jackan
● Max . . . Westley Reshel
● Helen . . . Jonni-Rae Grancorvitz
● Gary . . . Carver Empy
● Goodsell . . . Chris Michalski
● Kate . . . Amber Guldan
● Chuck . . . Josh Wecker or Todd Prosser
● Fanny . . . Rebecca Niese or Nancy Halterman (double casting)
● Apostle . . . Andrew Spencer
● Sylvia . . . Jo-Lea Binger
● Faye . . . Holly Beehn